Since the beginning of the Covid-19 pandemic the mainstream media has been following what is by now a well-established script. That script is one that involves playing down or ignoring the negative impacts of an issue or situation on men, whilst focussing on the perceived negative impacts on women. It also involves playing up the positive contribution of one gender over the other, with regards to fixing the problem. And if this sometimes involves misrepresentation, exaggeration or even fabrication – as it invariably does – well apparently, so be it.
Australia's ABC is notable for the extent to which it embraces the leftist/feminist/SJW perspective. On 17 March 2020 the ABC published an article about COVID-19 developments in Australia. Perhaps you might like to scroll down to the item about Hamilton Island.
That article mentions "a man diagnosed with coronavirus who recently travelled to Hamilton Island". Actually it was a woman. Until this tourist travelled there, there were no other reported cases of COVID-19 in the region. The article also mentioned that the "ABC understands the patient recently travelled from New South Wales where they were first tested."
A regional newspaper article published on 19 March 2020 (pay-wall protected) provides further/clearer details of the incident …
"A woman admitted to Mackay Hospital on Tuesday with coronavirus defied health orders and flew to Hamilton Island after being diagnosed with novel coronavirus in Sydney. It is understood the UK tourist, in her mid-30's, was found on a Hamilton Island beach after NSW Health authorities alerted their Queensland counterparts".
"She is understood to have told health authorities she did not understand the directive to self-isolate after testing positive to Covid-19".
Domestic violence – or more specifically domestic violence against women – was presented in the media as being the major gender-related issue, at least during the early phase of the Covid-19 pandemic. I have addressed that topic, or at least an aspect of it, in another post.
Further items related to the impact of Covid-19 on women, and vice versa:
NSW government caught discriminating against men, with phone call (12 December 2022)
'Pretty privilege' is real but it disappeared for women in Covid (5 December 2022)
The boy's club is under siege, by Bettina Arndt (25 November 2022) Scroll down to paragraph 11
ABS reveals how Covid-19 pandemic impacted weddings and divorces last year (10 November 2022)
I hope the future isn't female, by Janice Fiamengo (27 August 2022) Canada
Perth teenager allegedly punches nail salon customer after being asked to put on a mask (20 April 2022)
Covid has intensified gender inequalities, global study finds (3 March 2022)
Woman locked up for ten years after killing her 'soulmate' (1 March 2022)
'A perfect storm': Up to 70,000 women may have been coerced into withdrawing super (21 February 2022) Not one hint of men perhaps being abused in this manner (and no proof that women were).
OnlyFans model inundated with death threats after parking car on anti-vaxxer's vehicle (14 February 2022)
SA woman allegedly paid vulnerable person to get Covid-19 vaccine in her name (27 January 2022)
Police arrest woman after she 'refused to show her vaccine passport' as she shrieks (13 January 2022)
Mum accused of locking Covid positive son in car boot (8 January 2022)
Woman strips and uses dress as face mask to buy ice cream (5 January 2022)
In this video a female passenger without a mask tells a male passenger without a mask to put one on – then hits him (December 2021)
Nanango IGA incident: Woman allegedly attacks cops over mask (20 December 2021)
Young, female and unemployed: economists most worried about women under 25 (24 November 2021)
"Genomic sequencing has traced the current Covid-19 outbreak in remote Indigenous communities in the Northern Territory to a 21-year-old Queensland woman who lied about her travels" (19 November 2021) Courier-Mail article
'She'll pay': NT chief minister furious at woman who sparked lockdown, says she didn't disclose Melbourne visit (7 November 2021)
Prominent anti-vaxxer deletes social media after family dons infamous anti-Semitic symbol (12 October 2021)
Maskless US teacher caught in shock classroom act (8 October 2021)
I'm a celeb worker charged with breaching public health orders in Byron Bay, sparking lockdown (22 September 2021)
Annette Roberts: Wangaratta travel agent jailed for selfish Covid act | news.com.au — Australia's leading news site (17 September 2021)
Sydney Covid-19 case stopped on train to regional NSW | news.com.au — Australia's leading news site (10 September 2021)
Covid-denier Karen coughing in Super Saver gets sacked | news.com.au — Australia's leading news site (10 September 2021)
Woman's Facebook rant over NZ hotel quarantine meals | news.com.au — Australia's leading news site (3 September 2021)
Woman wanted for gross act at protest | news.com.au — Australia's leading news site (3 September 2021)
GOTCHA! Four-time border buster arrested in Warwick home – Australian Seniors News (27 August 2021)
Woman in car boot fined by QLD police at Goondiwindi border | news.com.au — Australia's leading news site (26 August 2021)
TikTok influencer Chloe Zsep loses followers after Big W mask act | news.com.au — Australia's leading news site (26 August 2021)
Covid-19 compliance: Lake Macquarie woman hit with big fine for breaching health order (news.com.au) (22 August 2021)
Melbourne lockdown: Three travellers fined for flying to Darwin without permits (news.com.au) (15 August 2021)
Sydney woman, 21, investigated over alleged lies on Newcastle trip (msn.com) (13 August 2021)
Two women fined after Sydney to Melbourne flight infected with Covid-19 (news.com.au) (12 August 2021)
Covid-19 vaccine: Suspected anti-vax nurse accused of delivering fake jabs (news.com.au) (12 August 2021)
Queensland Police hunting for woman who escaped hotel quarantine (4 August 2021)
What is FODA: Singles fear dating again after Covid (news.com.au) (3 August 2021)
Former nurse slammed for RIDICULOUS vaccine claims (msn.com) (3 August 2021)
Covid-19: 'Entitled' millennial's fertility whinge angers Australia (news.com.au) (2 August 2021)
Sonya Anglin: Alleged Perth quarantine dodger breaks down in court (news.com.au) (30 July 2021)
Taylor Winterstein: Glamorous WAG protester films police serving her $1000 fine (news.com.au) (25 July 2021) Oh well, as long as she's "glamorous", then it's OK I guess.
Sydney Covid-19: Paddington woman allegedly flew to Canberra (news.com.au) (11 July 2021)
Covid-19 Qld: Dramatic escape from Cairns hotel quarantine revealed (news.com.au) (6 July 2021)
Report no. 4: Impacts of COVID-19 on pregnancy and fertility intentions (July 2021) There's a swathe of factors causing current low marriage/fertility rates, but let's nominate a relatively obscure factor like Covid. As long as it doesn't, in any way, jeopardise the feminist narrative of the moment.
Live breaking news: Sydney, Darwin, Perth, Brisbane lockdown, Queensland cases grow as hospital worker spreads virus (30 June 2021)
Charlotte Crosby poses nude in Australian hotel quarantine (news.com.au) (30 June 2021)
Woolworths investigates shopper's toilet paper TikTok stunt | video (news.com.au) (29 June 2021)
Wondai woman charged with tampering with QR check in codes at pub | The Courier Mail (28 June 2021)
Buying a face mask in the market (but first you have to try them on, right?) (18 June 2021) Video
Covid Qld: Melbourne couple escape lockdown, positive test in Sunshine Coast (news.com.au) (9 June 2021)
Disaster patriarchy: how the pandemic has unleashed a war on women | Women | The Guardian (1 June 2021)
Melbourne: Protester filmed breathing on reporter identified (news.com.au) (1 June 2021)
Two sisters 'escape quarantine in Northern Territory' (9news.com.au) (31 May 2021)
Influencers face deportation over Bali face mask makeup prank (29 April 2021)
Bollywood stars slammed for fleeing India to Maldives during COVID crisis (28 April 2021)
Queensland's historical COVID-19 case attended Byron Bay hen's party (12 April 2021)
Woman charged with serious assault after coughing at and spitting on police (30 March 2021) Australia
Lyft Bans Maskless Uber Passenger Who Coughed On, Assaulted Driver (9 March 2021) USA
Woman, 23, faces Perth court after allegedly breaching quarantine directions 'to visit boyfriend' (28 February 2021)
Young women 'dress up as grannies' in bid to get COVID vaccine in Florida (20 February 2021)
Woman who lied about attending Perth funeral jailed for repeatedly breaching quarantine (19 February 2021)
Sydney woman attacks bus driver over mask request (9 February 2021)
Cronulla woman Jess Barca's excuse after allegedly failing to self-isolate while on holiday in Byron Bay (4 January 2021)
Victoria Police arrest woman for evading border checkpoint (31 December 2020)
Woman who fled Perth hotel quarantine tests negative for COVID-19, faces possible jail sentence (27 December 2020)
Female MRA posting on Twitter provides some interesting charts (December 2020)
Rita Ora apologises for breaching lockdown rules for second time (8 December 2020)
Aberdare woman charged with 16 counts of bushfire, COVID-19 grants fraud (28 November 2020)
Victorian budget: Women 'at heart of pandemic recovery' (24 November 2020)
Budget: Pandemic-affected unemployed NSW women entitled to $5000 grant payment (18 November 2020)
Woman punches flight attendant for not wearing mask correctly (21 October 2020) USA
Easyjet passenger has tantrum on plane over mask (20 October 2020)
Woman accused of 'breathing on' pet shop staff after mask request (7 October 2020)
Pregnant woman tells court she is returning to domestic violence after being ordered back to Victoria (2 October 2020) But women don't make false claims of domestic violence, right?
Revealed: How women have been left psychologically distressed by the Covid-19 pandemic (28 September 2020) UK
Budget 2020: It's time to play "blokecovery" bingo (21 September 2020)
Coronavirus Australia: Blokes big winners under tax cut plan but women get screwed (16 September 2020) Oh, but let's overlook a few issues that would undermine the feminist narrative …
Police say they expect to charge Natalie Bonett after she was dragged from car (13 September 2020)
Surfer with COVID-19 arrested at Spanish beach after breaking quarantine (10 September 2020)
Female workers feeling less confident than men during pandemic (9 September 2020)
Flight attendant called 'mask nazi' by angry passenger in 'revolting' note (7 September 2020)
Workers locked down in St Kilda hotel harassed 'day and night' by sex workers (28 August 2020)
Women admit skipping coronavirus hotel quarantine in Perth but say there was no party (20 August 2020)
Elijah Taylor's girlfriend breaks her silence over quarantine breach (19 August 2020) Just how many more "really big mistakes" do we have to tolerate? It seems clear by now that the only mistake they truly appreciate is getting caught.
Two women escape hotel quarantine in Western Australia (18 August 2020)
Australian women are losing one year of progress for every month of the pandemic (18 August 2020) Occasionally provides male/female comparisons, as all such articles should … but rarely do.
Calls for female-focused budget as women face financial 'gender disaster' (16 August 2020)
Married At First Sight star Stacey Hampton arrested, charged for flouting coronavirus restrictions (14 August 2020)
Woman in jail after allegedly flouting WA quarantine rules (13 August 2020) Western Australia
COVID-19-positive woman leaves quarantine hotel, boards tram (13 August 2020) Victoria
58-year-old anti-masker charged with police assault after alleged affray at Frankston cafe (12 August 2020) And here is a later report providing further details … she was released on bail with no fine (28 August 2020)
'He's choking me!': Victoria Police officer grabs woman by throat for not wearing face mask (11 August 2020) Looks like someone manufactured a videotaped incident for the media drawing together images of George Floyd's death and a predictable response borne from Aussie chivalry. Hint: Next time try growing up, eschewing wokeness, wearing a mask and helping.
Woman infected with coronavirus breaks quarantine for manicure (10 August 2020) USA
Virus scare ripples through Noosa after teens return from Sydney (10 August 2020)
Teenage girl charged after allegedly spitting in police officer's face (7 August 2020)
Victorian Premier, Police Commissioner shocked by 'disgraceful' conduct of anti-masker (4 August 2020) Australia
A woman who coughed on a brain tumor patient in a viral video has been charged with assault, police say (4 August 2020) USA
Police fine woman who allegedly coughed in officer's face (3 August 2020)
Richmond's Trent Cotchin's wife Brooke Instagram post in $45,000 breach (1 August 2020) Because it's important to take care of your skin.
Victorian woman accused of providing false information at Queensland border (1 August 2020)
Woman fined $4000 for failing to declare Sydney hot spot (31 July 2020)
Melbourne woman fined for not wearing a mask confronts police (29 July 2020)
Coronavirus Queensland: Two teens bring virus to state (29 July 2020) It began with the Chief Medical Officer labelling the women's actions as "very disappointing", and this was subsequently explained in this article, this article, and this article. And according to media reports their reason for visiting Melbourne included stealing expensive hand bags. Fools.
Are masks giving men a license to leer? Women report a rise in 'aggressive eye contact' (28 July 2020) Newsflash: Men are doing something wrong
Another woman harasses staff at Bunnings (27 July 2020) It remains to be seen whether the mask exemption certificate she claims to have had is legit or not.
A woman noisily objects to being asked to wear a mask in Bunnings, and is then later arrested (26 July 2020) Several linked Twitter posts with videos. She then proceeds to waste time/energy at a local post office (27 July 2020)
Melbourne woman threatens police after refusing mask (25 July 2020)
Conspiracy theorist slammed over 'dumb' stunt (24 July 2020) with updated article here. And later it was revealed she was a topless waitress. What? Not a rocket scientist?
Woman kicked off flight for refusing to wear face mask (24 July 2020)
Melbourne coronavirus case slammed for visiting Orbost while awaiting test results (21 July 2020) And as with the earlier Hamilton Island case, in some cases the media hid the fact that the offender was a woman, for e.g. calling her a "person from Melbourne" or simply a "traveller".
Customer pelts shoe boxes at staff after being asked to wear a mask (12 July 2020)
20-year old Hobart woman arrested for alleged Covid-19 breach (11 July 2020)
Karen seeks to enforce social distancing (10 July 2020) Video
Sydney woman escapes coronavirus quarantine, attempts to board flights (10 July 2020)
Coronavirus lockdown prompts spike in women's porn (10 July 2020) And as for the claim that women's tastes in porn is not "grubby" like men's … try searching on google for 'women like more violent porn', and you'll find sources like this one.
Why are you angry if I wear a mask? (9 July 2020) USA video
'Costco Karen' throws tantrum over store's face mask policy (7 July 2020) Video
Social media influencer Sarah Josephine Liberty fined for quarantine escape (6 July 2020)
Adelaide restaurant slams customer for breaking coronavirus rules (23 June 2020)
Sydney woman turns to OnlyFans after losing cafe job in coronavirus pandemic (2 June 2020) Pro-feminist news.com.au, which run stories like this almost daily, informs us that she's since made a "huge amount of easy money". But it's ok because she "has opted not to do nudity". Yup, would someone volunteer to confirm that and let me know the outcome?

(You can read about the wit & wisdom of Clementine Ford here)
UK women bear emotional brunt of Covid-19 turmoil – poll (20 May 2020)
Nurse assaulted in 'abhorrent' spitting attack in Adelaide while walking to work (20 May 2020)
Outrage as woman drives an hour and a half with her family to the beach – then complains that others are doing the same! (19 May 2020) UK
Coronavirus Australia: Accused McDonalds spitter's 'disgusting' act (18 May 2020)
The pandemic's gender bias needs urgent fixing (14 May 2020) USA
Online and ICT-facilitated violence against women and girls during COVID-19 (May 2020)
Queensland beautician sells nudes when virus shuts down business (12 May 2020) How many of these articles is pro-feminist news.com.au going to produce? Click-bait beats the feminist narrative – feminist hypocrisy take a bow.
Coronavirus: Deadly bug has proven that women are the stronger sex (11 May 2020) UK. Well now you can relax a little … women are stronger
NYC nurse, 43, steals coronavirus patient's credit card as he was on a ventilator three days before he died (8 May 2020)
The pandemic has revealed the weakness of strong men (6 May 2020)
Gold Coast influencer cries as coronavirus affects her income from OnlyFans (6 May 2020) Australia
Women dressed as nurses are stealing packages off porches, Washington state police say (5 May 2020)
New York woman, 27, is charged with attempted murder after she repeatedly stabbed her roommate who criticized her drinking during lockdown in their Upper East Side apartment (5 May 2020)
I lost my marketing job so now I sell sex online (5 May 2020) How empowering for her. All the STEM courses must have been full.
Raunchy celeb Instagram posts (2 May 2020) Blah, blah, blah
Girl charged with spitting on female bus driver (30 April 2020)
Covid's War on Women (29 April 2020) "Domestic violence is up sharply according to a new research report" … amongst other things. (There's more on the claimed surge in DV in this other post)
Sydney nurse spent $36k on credit cards stolen from unconscious patients (28 April 2020)
COVID-19's Gender Gap (22 April 2020)
Woman coughs on officer who shut down birthday party (22 April 2020) USA
'Disgusting behaviour': Woman accused of 'violent' coughing and coronavirus claims refused bail again (21 April 2020)
Woman who deliberately coughed at police officer jailed for four months (21 April 2020) UK
This girl needs money (20 April 2020) Video by @shoeonhead
Mum's violent outburst in western Sydney Woolworths shocks onlookers (19 April 2020)
Escort seeing seven men an hour in camper van – insisting it's an 'essential service' (18 April 2020)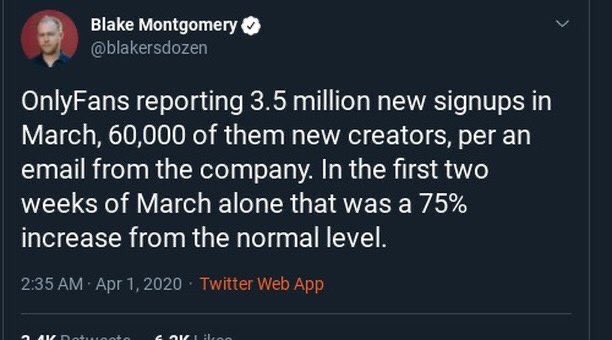 … and in case you were wondering what 'OnlyFans' is all about (think, a newer variety of Hooking Lite)
Domestic abuse by female family members double in UK amidst lockdown (17 April 2020)
Tweet from Janice Fiamengo re: apparent gender bias in a Canadian Covid-related awareness campaign
Coronavirus Australia: Risque lingerie items we're buying in lockdown (14 April 2020) Another riveting item prepared by female journalist, approved by female editor, and appearing in pro-feminist media outlet
Women bear brunt of hits to jobs, wages in shutdown, by Shane Wright (11 April 2020)
Disgraceful moment foul-mouthed teenage girls SPIT and cough at an Uber driver while claiming to have coronavirus (12 April 2020)
Coronavirus pandemic exacerbates inequalities for women, UN warns (12 April 2020)
Sanam Naraghi Anderlini, Gender Advisor to the UN, shares her views on Coronavirus and men (12 April 2020) Note that her tweet was subsequently removed. Sounds like she should have the word 'misandrist' somewhere in her job title.
"It's a free country" (12 April 2020) & in another incident … "A 20-year-old woman stopped in Port Macquarie gave police her twin sister's details before police dropped her home with a warning. She refused to go inside, walked off, gave police the finger and was promptly handed a $1000 fine."
'Despicable' University of Brighton lecturer, 55, avoids jail after spitting at police and telling them she has coronavirus when they arrest her (10 April 2020)
COVID-19: The bystander role has never been more critical in calling out (9 April 2020) That term, bystander, reminds me of this earlier post.
But what's going on? There appears to have been a change of feminist tactics, as this is the 2nd paper I've read today admitting that there had been no boost in the number of calls from DV victims since the commencement of the pandemic.
No spike in domestic violence in Tasmania despite early warnings: police (9 April 2020) Whoops, now that's awkward. And here's an unconvincing attempt at recovery by a high-profile feminist spokesperson.
Queensland coronavirus quarantine flouter arrested after third breach (9 April 2020)
Woman eye gouges supermarket worker in NSW (9 April 2020)
Coronavirus: Influencer slammed for posing in bikini made out of 'used' face masks (9 April 2020)
Life in lockdown: Sales of pyjamas more than double (8 April 2020)
Police hunting Texas teen who boasted about spreading coronavirus (7 April 2020)
Why women are better than men at beating the coronavirus (4 April 2020)
Hundreds of domestic violence victims in 'terrifying situation' of being locked in with abusers (3 April 2020) The only article that I have seen on this theme that mentions male victims. That certainly marks some progress, at least
Coronavirus US: Influencer defends travelling to Florida amid pandemic (3 April 2020) To my way of thinking an influencer educates or inspires, rather than demonstrating solipsism or selfishness.
Instagram influencer Arielle Charnas publishes tearful video message after testing positive for coronavirus and visiting the Hamptons (3 April 2020)
Woman charged after coughing on people (2 April 2020)
"At 9.20am yesterday, a woman was walking south along Sharp Street, Cooma, in NSW, when she allegedly stepped in front of another woman and intentionally coughed in her direction. The woman allegedly continued to cough at members of the public as she walked past them, including a woman with a young child."
Malaysia apologises for telling women not to nag during lockdown (1 April 2020) Many recent articles express sympathy & frustration on behalf of women forced to isolate with men who (allegedly might) beat them, or at least don't wash more dishes. But sympathise with men who have to put up with nagging or condescending women …. ooh no …that's some serious #misogyny. Stop it now, you hear?
"More young women in their 20s have tested positive for the coronavirus in Australia than any other age or sex group, according to Health Department data. The surprising find has been put down to their active social lives and higher likelihood of travelling overseas, according to an exclusive report by The Australian." (1 April 2020)
Tellingly, media outlets like The Guardian reported this as 'young people' rather than "young women". Most of those that didn't (initially), either amended online copy or removed it within hours of publication.
Woman arrested and fined in South Australia for breaching coronavirus border controls (29 March 2020)
Coronavirus Australia: Woman charged after spitting on officer during vehicle stop (28 March 2020)
Coronavirus: Woman faces terrorism charges after coughing on groceries (27 March 2020) USA
Woman cops $1,000 fine after ignoring orders to self-isolate (27 March 2020) Australia. Good, #PussyPass denied
Is online shaming of COVID-19 rebels effective? Maybe, but not for everyone (25 March 2020) Canada. No mention of gender differentials in this article.
Coronavirus: Woman who returned from overseas with virus begged to keep it secret (25 March 2020)
Bella Hadid shares coronavirus advice while eating burrito topless (25 March 2020) The view of her breasts is somehow important, right?
21st birthday party guests infected with COVID-19 after case linked to Aspen ski trip (24 March 2020)
Brit abroad dragged from pool and arrested for breaking quarantine in Spain (24 March 2020) Surely a strong independent woman.
Self-Isolation Means Many Women Will Be Trapped With Their Abuser (24 March 2020) Just forget about male victims of abuse, OK? It's just such a rare aberration – not worth worrying about.
Porn star offers to have sex with scientist who discovers a cure for Coronavirus (23 March 2020)
Woman coughs in man's face after refusing to comply with COVID-19 social distancing (March 2020)
Coronavirus porn is a thing, and of course it is (20 March 2020)
Do I Need to Stop Sleeping With New Guys Because of the Coronavirus? (19 March 2020)
'The coronavirus is killing far more men than women', 'Majority of NYC's coronavirus cases are men between 18 and 49 years old' (20 March 2020), a Janice Fiamengo video entitled 'More men die: Women most affected', and 'Doctor's Note: Why are more men dying from Coronavirus?' (6 April 2020). Ooh, I hope I don't break the spell by injecting a measure of reality here.
'I'm young. I feel my body can handle it': Tourists ignore social distancing plea (20 March 2020)
'I have the coronavirus and now so do you,' a woman allegedly told police as she breathed on them (18 March 2020)
Women Are Hit Hardest By Coronavirus Shutdowns – You Can Help (18 March 2020)
'I was shamed for not self-isolating after a ski-trip to Aspen' (17 March 2020) I assume that this women at least did not test positive for the virus – or at least not prior to being 'shamed'.
"Seriously people, this is not the time for judging, finger pointing or shaming. Our world is in uncharted territory, we are all desperately trying to filter through the mass of news we're consuming eager to decipher what works for us and our families."
Yes, similar to the way feminists refrain from finger-pointing at, or shaming, men. All the time. Oh please, spare us the tunnel-vision!
Business booming for cam girls amid coronavirus outbreak (14 March 2020)
Travel influencers say coronavirus is 'impacting income massively' (13 March 2020)
Coronavirus: Women could be disproportionately exposed to outbreak, experts warn (12 March 2020)
Thousands march in Spain on women's day despite coronavirus fears (9 March 2020)
This 'isn't Mad Max,' Australian police say after 3 women get into a brawl while panic-buying toilet paper during coronavirus epidemic (8 March 2020)
Did We Forget to Memorialize Spanish Flu Because Women Were the Heroes? (18 February 2019) Women also most affected by earlier pandemics
But I don't want to wear a mask (undated UK video shown on Twitter)
Don't read (or listen to) the following items unless you're prepared to risk popping the feminist soap bubble in relation to Covid-19:
I hope the future isn't female, by Janice Fiamengo (27 August 2022)
Female leaders found to be no better in Covid crisis (1 January 2021)
Men urged to come forward and report domestic abuse (24 November 2020) UK
Men's jobs, pay hit harder than women's (20 October 2020) Australia
Payne defends budget measures as gender neutral (19 October 2020)
Women, older Australians were most likely to receive the Morrison government's $750 stimulus payments (16 September 2020)
Men hit harder by virus than women, study finds (30 August 2020) But of course the difference has to be due to failure/s on the part of men (scroll to the end).
Covid-19 and female leaders (20 August 2020) with a further Twitter discussion thread here
Lack of men's health strategies may have cost lives in pandemic (19 June 2020)
The elusion of men (8 June 2020) U.K. Video
Covid-19 update on health care professionals (17 May 2020) USA
Men who catch coronavirus are more than twice as likely to die from the disease as women, study shows (29 April 2020)
Less than half of confirmed COVID-19 cases are male, so why are more men ending up in B.C. hospitals? (24 April 2020) If more women were dying, can you imagine a health spokesperson describing the situation as "interesting"?
They lived in a factory for 28 days to make millions of pounds of raw PPE materials to help fight coronavirus (24 April 2020) "They" being 43 guys … oops.
Male health care professionals in U.S. make up 62% of all COVID-19 HCP deaths but only represent 25% of health care professionals (19 April 2020)
'The coronavirus is killing far more men than women' and 'Majority of NYC's coronavirus cases are men between 18 and 49 years old' (20 March 2020)
A Janice Fiamengo video entitled 'More men die: Women most affected' and a tweet re: apparent gender bias in a Canadian Covid-related awareness campaign
'Doctor's Note: Why are more men dying from Coronavirus?' (6 April 2020)