"There's a lot of men suffering the same Abraham, men are less likely to report it though. Its a two way street. I found it degrading after having my bipolar partner restrained by police to be put in an ambulance, that the literature given to me and having called the help line, that it was all geared towards women. Even the men's help line, when called and told of being involved in domestic abuse, being questioned about what I'd done to abuse her.
You know when she's off tap and I'm being pushed to the limits, I could just knock her block off, I can handle myself, if it was a bloke doing it, it wouldn't even be an issue, but its a woman and mother of my children, I'm better than that. My kids have had to witness it for years, they even ask how i endure it without retaliating. But its my job to be their role model, not sport stars or entertainers. I stay composed, controlled. I was safer in Afghanistan or Iraq. It's time for men to stand up and be more vocal. I'll start it off."
"Its not the violence although she has slashed my car tyres to stop me from leaving and has threatened me with a knife on many occasions. It's the threats to kill herself, or ringing my work, or on many occasions showing up at work because I won't do exactly what she asks. Several suicide attempts, what am i to tell my kids if I stay at work and she rings and tells me she's taken an overdose and i keep working. The ambulance wont come on their own anymore when she loses it, the police have to come, because she is violent to the ambulance driver. I'd post videos, but I don't want her identified on the internet. My kids have been embarrassed enough, they don't need all their friends knowing.
I said I would start this off, all my friends on here know now, but no-ones going to use it to try get to me, most are smart enough to know better. Like I said if it was a male that was threatening me it wouldn't be an issue, I did my time in conflict zones, I can handle myself. My pay goes into an account she controls, I get an allowance. I got my pay put into my own account awhile back and she went to our head office and made a scene, nearly got me sacked. So I changed it back to stop her going back. My boss has said to me how I manage to be early every day, get through my day and churn out a high standard work is beyond him. Never late, never take a day off, always try to be upbeat. I do what i do because i am my kids role model, not some sports star or celebrity, I set a standard, I tell them not to react, stay calm and I practice what I preach. (Source)
"I have encountered similar violence by a wife towards her husband and I can promise you, it's no laughing matter. Especially when men are often brought up to never lift a hand up against a woman. Thankfully, they are no longer together, but she still has most custody of their beautiful little boy. She has gone out of her way to use the son to hurt him, but thankfully family, friends and even a judge has seen through her and have provided him with much needed support. He is a lovely dad who was snared by a vicious, vindictive woman" (Source)
Male family violence victim recounts two-year 'run-around' to find support service in Victoria (27 April 2023)
Female prison reform boss is jailed for 'worst case of coercive behaviour' judge had ever seen (25 February 2023) UK
Domestic Abuse: Depp vs Heard. What did we learn? (1 December 2022)
The double whammy of being a survivor of domestic abuse who is blind and male (2 November 2021)
Woman, 44, jailed for beating her boyfriend with a dumb bell and a saucepan | Daily Mail Online (4 August 2021)
Abbey Clancy 'punched' Peter Crouch after baby got lost (yahoo.com) (28 May 2021)
Woman stabbed boyfriend and hit him with frying pan in row over sleep (15 February 2021) UK
Man, 35, whose ex poured acid over him as he slept reveals he 'can't pass one day' without swearing at attacker (13 February 2021) UK
Dismissed, minimised and ridiculed: The harmful responses to male victims of rape  (30 April 2020)
Male domestic abuse victims seen as 'under the thumb' (21 April 2022)
Amber Heard hired P.I. to dig up dirt on Johnny Depp, but 'fixer' spoke to 100 people who all 'couldn't say enough about his generosity and tender heart' (2 April 2020)
Amber Heard slammed for body-shaming Johnny Depp by calling him 'fat': 'He looks much better after split' (12 February 2020)
Johnny Depp and the dangers of 'Believe Women' (5 February 2020)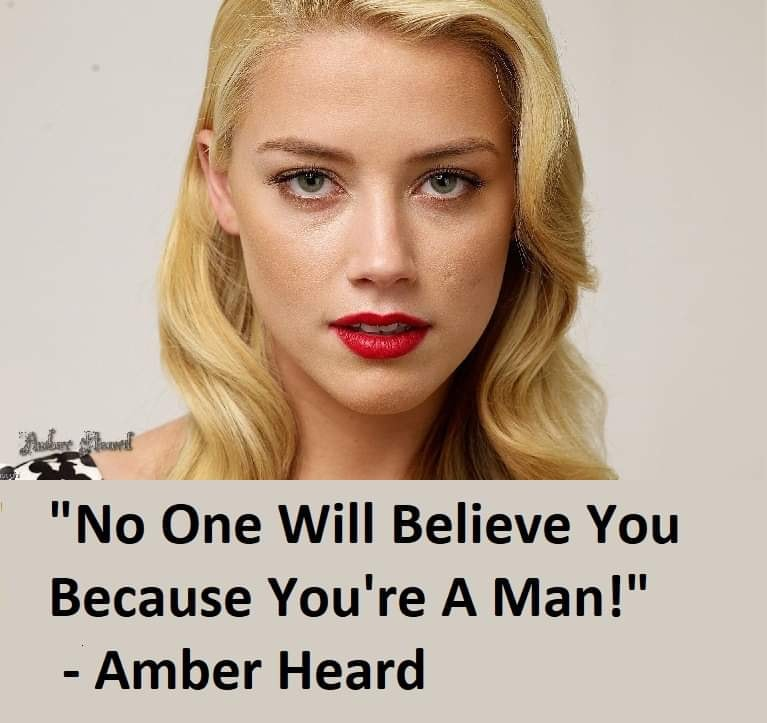 'I can't promise I won't get physical again, I get so mad I lose it.' Amber Heard admits to 'hitting' ex-husband Johnny Depp (1 February 2020)
Stacey Dash – co-star of the movie 'Clueless' – arrested for domestic battery in Florida (1 October 2019) USA
Duluth worked even better than I expected (25 July 2019)
Florida woman, 21, 'choked her boyfriend and squeezed his genitals until they bled' (12 June 2019)
Mum hit boyfriend around head with crowbar after he dropped slice of pizza (23 May 2019) UK. Suspended sentence + 150 hours of community service.
Man stabbed in the neck in alleged domestic attack (15 April 2019) As others have pointed out, none of the articles about this incident used the term 'domestic violence' (as is now typically the case when men are injured or killed by their partners)
Male domestic abuse victims 'suffering in silence' (1 March 2019) UK
Doco reveals the horrific abuse man suffered at the hands of his controlling girlfriend (18 February 2019)
Nurse Michelle Fernandez banned after stab conviction (15 February 2019)
'I was scared stiff and terrorised by my wife': How more men are speaking up about being assaulted by their partners (28 November 2018) UK
Ken describes the abuse he suffered (27 September 2018) Video
Adelaide Hills woman runs man down in car (29 June 2018)
Glee star Naya Rivera charged with domestic violence against her husband (26 November 2017)
Sydney man stabbed in domestic incident (14 November 2017) Australia
Abused husband, 45, who suffered 12 years of beatings at hands of his hard-drinking teacher wife set up a spy camera to film her campaign of violence (8 September 2017) UK
Actor and domestic violence survivor Bryan Wiseman accuses police of homophobia (19 August 2017)
Abused husband reveals 'drunk' wife's bloody car key attack (4 August 2017)
Domestic violence perpetrated by Australian women in the first half of 2017 (2 July 2017)
Actress Stephanie Davis arrested for 'giving boyfriend Jeremy McConnell two black eyes' in drunken row (4 July 2017) Reddit discussion thread and linked article
Fiancee stabbed me 28 times and left me hour away from death just weeks after asking me to marry her (27 May 2017) UK
Woman on the run two years after poisoning husband's cereal to avoid having sex with him (6 March 2017) USA
SAPD: Officer issued bogus ticket to victim of assault to 'f— him over,' made racist joke (28 February 2017)
'My intestines were out… and she was grabbing hold of them': Man tells court how his ex-wife 'tried to disembowel him with a carving knife' (8 February 2017)
This is my story, as a male survivor of domestic violence (3 February 2017) Reddit discussion thread
Uptown woman arrested after kicking boyfriend's face in front of police (17 January 2017)
Woman jailed for stabbing boyfriend because he ate all their chips (8 January 2017) UK
Woman spared jail for domestic abuse that left boyfriend in fear (20 December 2016) UK
Dad Abused By Wife Breaks Silence To Call James (9 December 2016) UK
First picture of designer boyfriend of arrested 'Catwoman' Jocelyn Wildenstein after she 'slashed him with scissors' and 'poured hot wax on his face' during late night brawl (8 December 2016)
The forgotten male victims of domestic violence (28 November 2016) China
Woman jailed for kicking her partner down the stairs (20 November 2016) UK
FIU's Jonnu Smith out for season after suffering multiple burns (11 November 2016) USA, and here is one person's comment re: that incident
A kiss for the wife who stabbed him 13 times (3 November 2016) UK
Businessman, 54, was branded with an iron and had pushed burning cigarettes up his nostrils every time he refused to have sex with his violent girlfriend (1 November 2016)
TV cop star arrested in domestic dispute (31 October 2016)
My wife emotionally abuses me … need advice (27 September 2016) Reddit discussion thread
Ex-husband of Labour's domestic abuse Minister 'still has nightmares about her' after attack during divorce (25 September 2016) UK
West Virginian, 39, Put Out Cigarette In Her Boyfriend's Eye, Police Charge (14 September 2016) USA
Furious bride-to-be, 24, bit her fiance's ear and slashed his face with a broken glass (10 September 2016)
Women thought she was setting her ex-partners car on fire (7 September 2016) Video
Chalet holiday ended with drunken woman stabbing her boyfriend (4 September 2016)
ABC Life Matters story on male victims of domestic violence  (10 August 2016) Australia
Women on men domestic violence – Personal stories (24 July 2016) Video about a Chinese/American family
Woman charged after alleged reckless wounding (18 July 2016) Australia
Man writes about his controlling wife. Advice columnist rightly points out that if sexes were reversed, it would be labeled abuse (30 May 2016)
Wife Battered Husband Over Candy, Flowers (11 May 2016) USA
Domestic violence: Men are victims, too (25 April 2016) USA
Why are so many middle class wives beating up their husbands? FEMAIL explores why women are lashing out at their partners – and the horrifying consequences (24 March 2016) UK
Wife rips off her Romanian husband's testicles with her bare hands (10 March 2016) Features this readers comment:
"Predictably the top comment is from a woman ridiculing the incident. He doesn't sound a particularly great husband but would you have found it as amusing if a man had ripped off his wife's breast because she wasn't a good wife? Nope, didn't think so. The comments here just show the gulf in society's attitudes towards violence to men and women from the opposite sex."
Sharon Edwards: Violent wife murdered lawyer husband (8 March 2016) UK
"The number of women convicted for domestic violence rose by 30% in the year to April 2015, from 3,735 to 4,866. It marks an upward trend – the number of convictions involving female perpetrators is now six times higher than it was ten years ago"
'This is actually abuse': My Kitchen Rules viewers slam Dee for 'bullying' husband Tim and tell him to divorce his domineering wife as #SaveTim trends online (1 March 2016) Australia. I have noticed a general pattern with these 'reality' style TV shows of women quite often being abusive towards male companions or male contestants in a way that would cause public outrage if the genders were reversed.
The dangers for men in domestic violence, by Jasmin Newman (8 February 2016) Australia
Police: Woman beat man with belt for not getting out of bed (4 February 2016) USA
Cops: Iowan, 33, Battered Husband When He Declined Her Request To Have Sex (25 January 2016) USA
Cops: Woman Attacks Fiancé Over Recycled Ring (13 January 2016) USA
Man's girlfriend first 'keys' his car, breaks a window, and then tries to drive into him (9 January 2016) Video. USA
Statistics and stigma: The silence around men and domestic violence (24 November 2015) Australia
A Logan woman said she was not diminishing the problem of domestic violence against women, but wanted people to know that men also suffered abuse (24 October 2015)
False accusations preventing men from reporting domestic abuse – study finds (28 September 2015) UK
"The number of women convicted of perpetrating domestic abuse has more than quadrupled in the past ten years from 806 in 2004/05, to 3,735 in 2013/14"
'Domestic violence against men is no laughing matter': Lottery winner calls for protection of victims as he speaks out after being attacked by his former girlfriend (5 October 2015) UK
Men and their children, forgotten DV victims (21 September 2015) Australia with related reddit discussion thread here.
Man stabbed in head and leg during domestic fight in NSW (21 September 2015)
A Critique of Feminism: A Humanitarian Won't be Silenced about Sexual and Domestic Violence (24 August 2015)
Submission #424 to the Victorian Royal Commission into Family Violence (28 May 2015)
Submission #757 to the Victorian Royal Commission into Family Violence
John Humphrys challenges Alison Saunders over 'Violence Against Women & Girls (Crime Report)' (25 June 2015)
We need to help individual victims of domestic abuse, whatever their gender (22 June 2015)
'I had always been scared of my mum': Breaking the cycle of violence (19 June 2015) Australia
Personal accounts by abused men (June 2015) Australia
Fine for throwing mug, butter knife at boyfriend (29 April 2015)
SA court told wife stabbed her husband, in front of sleeping son, after sexually complex relationship (28 April 2015)
Auburn woman who tortured family for years gets life in prison (20 April 2015)
Home violence not just at the hands of men (28 March 2015)
Jealous ex of footballer Erik Walden leaves their two children alone in car and breaks into his home threatening him and girlfriend with loaded gun before attacking them with bat and knife (21 March 2015)
Scalded husband: 'No shame' for male domestic abuse victims (13 March 2015) also covered in this Huffington Post UK article
We need to speak out for all victims of family violence, by Roger Smith (2 March 2015)
'I'm a big, strapping bloke. Who would believe I was a victim of domestic abuse?' (26 February 2015)
Woman mauled boyfriend with kitchen roll holder after penis prank backfired (19 February 2015)
Male victims of domestic violence (17 February 2015) Video
Columbia University professor who teaches peacekeeping skills to cops, firefighters is charged with assaulting boyfriend (17 February 2015) and related reddit mensrights discussion thread
GF has started getting violent on me. I left her today after she beat me. People's reactions have been insane (8 February 2015) Reddit mensrights discussion thread)
The day my wife beat me up because she hated my haircut (26 January 2012)
Reddit men's rights discussion thread created by a male victim of domestic violence (16 December 2014)
Male domestic abuse victim: I could have died after attack and Male domestic abuse victim: Men are scared to come forward (5 December 2014)
http://www.shrink4men.com/2014/10/05/in-his-own-words-scenes-from-an-abusive-marriage/
Man stabbed 13 times by girlfriend says she had history of attacking him (1 August 2014) USA
25 men subject to domestic abuse tell their stories (28 May 2014)
Enraged: Victoria Police's response to violence towards men (February 2014)
The personal stories of two Victorian men
Good Op-Ed from a Norwegian newspaper about domestic abuse (1 September 2014)
Domestic violence: Male victim tell of wife's abuse (15 June 2014)
Irish TV feature on male victims of domestic violence (June 2014)
My wife hugged me to say sorry for beating me up… then knifed me in the back (13 January 2011)
https://mencanbeabusedtoo.wordpress.com/ (also includes some comments about Elizabeth Broderick, former Australian Sex Discrimination Commissioner)
http://www.theshedonline.org.au/discussions/lifestyle-family-and-relationships/abusive-wife
http://www.reddit.com/r/MensRights/comments/2bxo3w/domestic_violence_and_scottish_law/?utm_source=twitterfeed&utm_medium=twitter
Jackson man stabbed during child custody dispute (missing words = domestic violence) (21 August 2014)
http://www.reddit.com/r/MensRights/comments/1ir6aa/excellent_post_about_women_harmlessly_hitting_men/
In a comment he contributed to this article, Chad Tindale wrote:
"Police were once called because my girlfriend, at the time, was stabbing the bathroom door (behind which I was locked) with a knife. When the police arrived, she was still drunk, and still holding the knife. They told us to keep it down so that they didn't have to come back… then they left me there… with her… with the knife. You're not a hero when you rescue a man from a woman, so it's often just easier to leave them there… leave them with her… with the knife."
Men Aren't Victims (Because Women Say So) (29 December 2014) and related Reddit mensrights discussion thread
Young people and domestic violence (2001) This government study includes an interesting comparison of the number of children who have witnessed dad hitting mum, and vice versa (incl. Table 4.23)