I was reading an article the other day about the ongoing push to have feminist propaganda introduced into our schools under the guise of 'respectful relationships' programs.
The article in question, entitled 'Bid to teach anti-violence to schoolkids' (Jessica Marszalek, Courier-Mail, 30 July 2015) included the following statements:
"She (QLD Minister Shannon Fentiman) said both teenage boys and girls would benefit from positive messages as they began in the dating world.
"We know that there are attitudes with particularly young men who think it is appropriate to pressure a woman for sex," she said.
So as part of challenging those attitudes, those respectful relationship-type programs really help combat those views held by teenage boys. And for young girls, what they should and shouldn't put up with."
"We need to be running programs around respectful relationships but also we need to be running programs about how we view women, so tackling those attitudes is going to be central," she said.
Queensland is not alone in this regard, with other states considering similar moves. This article concerns such a proposal in New South Wales.
In September 2015 Prime Minister Turnbull announced that "$5 million will also be provided as a longer-term measure to change the attitudes of young people to violence, through expanding the Safer Schools website to include resources for teachers, parents and students on respectful relationships.  This will build on the $30 million national campaign (jointly funded by the Commonwealth, states and territories) to change young people's attitudes to violence, which will commence in early 2016." (Source)
I don't have a problem with the concept of 'respectful relationships' programs in schools, but I am concerned when the focus is wholly on the need for boys/men to respect girls/women. Yet this is the very type of school program that has been provided and/or vigorously lobbied for by many pro-feminist groups such as the White Ribbon Campaign.
I believe that children should not be put in a position of being alternately shamed or absolved of responsibility due to their gender.
A gender-neutral approach, on the other hand, sends the correct message that people need to respect one another regardless of gender, and that harm can be caused by both males and females alike. (Article on this perspective)
Postscript February 2016: And now, ladies and gentlemen, please put your jazz hands together to welcome the ironically-labelled 'Safe Schools' program. A program which the feminist lobby formulated and then rushed to defend when mainstream Australia voiced their disquiet. This is a progressive social engineering project masquerading as an anti-bullying program.
Helping young men to have healthy, respectful relationships (25 October 2023) Australian Federal Government media release. Another $3.5 million down the feminist toilet
Girl viciously attacking another girl in a US high school @ClarkCountySch (6 February 2022) Teacher did nothing to help. The school's lame response can be seen here.
#IsThisOk: Greater Manchester sexual harassment video targets men and boys (18 December 2021)
How masculinity became a dirty word: The feminisation of boys in British schools (16 November 2021) Video
Sandwell awarded £119k to help tackle violence against women and girls (5 November 2021) "Specific actions that form of part of this programme include delivering a theatre production to raise awareness and challenge sexualised behaviours and culture, and creating boys group sessions tackling issues such as misogyny."
Revealed: how the government's 'milkshake' consent video came about (20 April 2021)
Janice Fiamengo mentions another male-hate campaign aimed at boys. It's called 'Man Up' (9 April 2019)
Teacher takes on male-bashing Respectful Relationships propaganda (March  2019) Australia
Ward departs La Trobe following program's scrapping (19 June 2017)
An epidemic of transgender children is Safe Schools' legacy (16 April 2017)
Safe Schools program to be overhauled and founder Roz Ward removed (16 December 2016)
Girls who are girls but not girls — It's time to stop the Safe Schools subterfuge (24 July 2016)
Miranda Devine: Marxist agenda a red flag for not so safe schools, by Miranda Devine (29 May 2016)
Flag slur underlines concerns: Turnbull (28 May 2016) What's the bet that Premier Andrews eventually comes to regret getting into bed with these leftist radfem nutters?
Victorian Labor Government deceives on Safe Schools (19 March 2016) Australia
Does Imposing Queer Theory Really Lead to Safe Schools? (14 March 2016)
Bullying linked to gender and sexuality often goes unchecked in schools (3 March 2016) "Gender-based bullying"? Oh please! Desperate feminist author tries to invent nexus b/w 'Safe Schools' program and as many topical issues as possible to make it look like a great idea.
Trojan Horse gay claim laughable, by Wendy Tuohy (2 March 2016) Australia
The vitriol against the Safe Schools program reflects state-sanctioned homophobia, by Moo Baulch (26 February 2016) Australia
See also:
Helping young men to have healthy, respectful relationships (25 October 2023) Amanda Rishworth MP spreads the hypocrisy and bias far & wide with this $3.5 million 'initiative'
Sex education must engage boys to tackle harassment – MPs (5 July 2023) UK
Prestigious university sparks outrage after medical students were forced to sit a 'white privilege' assessment (30 April 2023)
Kids to be taught reading and writing, NOT gender fluidity under back-to-basics election proposal to rid NSW classrooms of creeping indoctrination (20 March 2023) NSW, Australia
The demonisation of our sons: Browbeaten by toxic masculinity crusaders invited into schools, boys are feeling cowed and worthless (20 March 2023)
Primary schools should teach boys what is unacceptable behaviour as part of whole-society approach to tackle misogyny, senior police officer says (13 March 2023)
Mum of Manhattan Pharma heiress had to hire a 'deprogrammer' to help her unlearn crazed 'woke' views (26 November 2022) Twitter discussion thread
Pupils in London to be trained to recognise sexist behaviour (19 November 2022)
Toxic masculinity – Blame men for everything (30 June 2022) Video
School hits back after complaint from parent about PSHE assembly (26 November 2021)
UK primary school asks boys to wear skirts to 'promote equality' (4 November 2021)
Grace Church High School: Teaching & the Voice of Conscience with Paul Rossi (thinkspot.com) (30 April 2021) USA. Video with Jordan Peterson & Paul Rossi
Melbourne youth worker orders white, Christian high school boys to stand in class, calls them 'oppressors' (26 April 2021) Australia
Teens to learn about consent in sex-ed shake-up (14 April 2021) But they will only learn about the dangers of violence against women (This article is/was behind a paywall for the Brisbane Courier-Mail & allied newspapers)
Boys at schools embroiled in sex abuse scandal change out of uniform to avoid being branded rapists | Daily Mail Online (4 April 2021)
Schoolboy lashes his school for making the boys stand in front of the girls during assembly and 'apologise' for rapes committed by their gender' (30 March 2021) Australia
Activist Chanel Contos says school's move to make male students apologise to females is 'problematic' (29 March 2021)
Brauer College, Warrnambool: School forces boys to apologise to girls for 'sexism'
How to teach your children (especially your sons) about feminism (26 December 2020) UK
Stop indoctrinating kids (1 September 2020) Australia
Let's make it mandatory to teach respectful relationships in every Australian school (28 May 2019) and related Twitter thread
Feminist School 'Punishes' Boys by Curtailing Their Recess on International Women's Day (16 May 2019) Spain
Teacher takes on male-bashing Respectful Relationships propaganda (5 March 2019) Bettina Arndt video interview
'Victimhood narrative' taught in schools fuels anxiety in young women, academic claims (21 October 2017) UK
The feminization of everything fails our boys (9 May 2017)
'Feminist Collective' strategy in schools (26 April 2017) Australia. More feminist/SJW madness from the Victorian government
In The Name Of 'Gender Equality', Kindergarten Teacher Doesn't Let Kids Play With Legos (April 2017)
The 'Toxic Masculinity' Trend Blames Boys For Being Born Male (12 April 2017)
Fake anti-domestic violence programs just demonise our little boys, by Miranda Devine (12 April 2017)
Sydney Girls High School prefects hit back after Sydney Boys' viral video (13 March 2017) This oughta teach those boys to stand up for feminism
Gender theory banned in NSW classrooms (9 February 2017) Australia
Our Watch charity invited to assess its own schools gender equity program (4 February 2017) Talk about the (feminist) fox looking after the henhouse
How much can a teddy bear? (14 January 2017)
Recognising ethnic identity in the classroom: a New Zealand study (21 December 2016)
"This article argues that … rather than promote the affirmation of student identity, the enactment of this directive might, in fact, lead to ethnic division. Second, attempts to recognise and affirm identity have led to the displacement of school subject knowledge in classroom programmes. These unintended outcomes are not only unacknowledged, but they continue to disadvantage the community the identity directive was intended to address."
B.C. teacher fired for having the wrong opinion (7 December 2016) Canada
Melbourne high school teacher says she would refuse to teach 'lewd' safe schools and respectful relationships program (29 October 2016) See related Reddit discussion thread here.
Kids program teaches men are 'greatest threat to women' (25 October 2016) Australia
Toxic identity politics polluting Victorian schools, by Rita Panahi (24 October 2016)
Masculinity is not to blame for domestic violence (24 October 2016) Australia. Related Reddit discussion thread here.
The dangers of brainwashing our children, by Jasmin Newman (22 October 2016) Australia
"Globally and historically men are the greatest threat to women" (October 2016) A slide from a Powerpoint presentation shown to Australian schoolchildren
Victoria, a misandrist state of child indoctrination (17 October 2016) Alternative link here
Lessons on 'male privilege' in $21.8m Victorian schools program (14 October 2016)
Girls feelings are far more important than the truth, by Mark Dent (12 October 2016)
A dummies guide for teenage girls on how to respect boys (20 September 2016) Not the sort of relationships message that feminists would stand for.
ReNew program for sons aims to stop family violence (15 September 2016) Australia with related Reddit discussion thread here.
VCAT green light will let Ivanhoe Grammar School offer more places to girls (11 August 2016)
Reducing 'mean girl' behaviors in classrooms benefits boys and teachers too (2 August 2016) USA. The sort of program that should be in schools, but unlikely to get the feminist tick of approval.
Sonia Kruger objects to scholarships for gay, lesbian and transgender students as 'reverse discrimination' (1 August 2016)
It is not enough for schools to address sexism after the scandal, by Dana Affleck (29 July 2016) Ordinary men are the enemy, not (just) bad men. Meanwhile no mention of female teachers having sex with students, or girls bullying, harassing or objectifying boys.
Clementine Ford teaching your children (18 July 2016)
Feminist/PC brain-washing of boys in US school system (12 July 2016)
Teach Him Early (29 June 2016) USA feminist video campaign, with discussion thread here
Why our 7-year-olds desperately need to learn about feminism (23 June 2016)
Truthful debate is slurred into silence by the Left, by Mark Latham (7 June 2016)
The Left doctrine that no one can criticise (18 May 2016)
Kids of 7 learn 'gender diversity' from Safe Schools Coalition (14 May 2016)
Transgenderism: Has anybody seen my girl? by Miranda Devine (29 April 2016) Australia
We all wear the White Ribbon (April 2016) Video. Australia. Completely and utterly one-sided … men hurt women/men must respect women
University defends research used as basis for Same Sex program (5 April 2016) I find the readers comments more persuasive that the entreaties of the Deputy Vice Chancellor. Only good research gets through the rigourous vetting process? Yup, how about the research project mentioned in this post? Or the ones mentioned here? This post is worth a read too
Controversial sex-ed program will teach Aussie toddlers about cross-dressing (6 March 2016) Australia
Domestic violence cycle continues as children as young as 10 offend (20 February 2016)
Principal Corrine McMillan said she was proud of her students, who will this year mark White Ribbon Day. "Students will present a declaration to make a stand against domestic violence," she said. "I'm proud to see the students – particularly the male population – live up to the challenge."
These uni students are holding feminist workshops in Sydney high schools (5 January 2016)
Inspiring STEM literacy package will aim to get more girls interested in maths and science (21 December 2015) Australia
Domestic Violence Awareness Video Claims Abuse is 'Just Something Boys Do' (18 December 2015)
Stop encouraging boys to 'say no to feminism' (15 December 2015) Radfem journalist Clementine Ford presents the case for ramping-up indoctrination
Why We Need To Stop Telling Boys Not To Hit Girls Because 'She Is A Girl' (4 December 2015) India
Men are not monsters (19 November 2015) Note the tone of the readers comments
Boys should have the right to say no to feminism. The evangelical drive to teach boys to be feminists reached a new high last week with the news that every 16-year-old in Sweden is to be given a free copy of the book "We Should All Be Feminists" with reddit discussion thread here
Fightback: Addressing Sexism in Australian Schools (undated)
Maybe This Is Why Boys Don't Respect Women (30 November 2015)
When Society Encourages Mean Girls to Bully Boys (26 November 2015)
Newington College has launched a powerful domestic violence campaign (27 November 2015) Australia
The make-believe world of child-abuse campaigners (26 November 2015)
Feminism campaign sparks controversy at Vic High (25 November 2015)
Feminist bullies and the pernicious myth that sexual morality is just about 'consent' (24 November 2015) UK
Blakely teacher restricts Lego-play to her girl students in the pursuit of gender equity (24 November 2015)
Campaigners' fury at bid to cut feminism from politics A-Level syllabus: Call for department of education to reverse 'insulting and misguided' move (20 November 2015) UK
Men are not monsters (19 November 2015)
Breaking the Silence program: Schools in South East SA raise awareness about domestic violence (17 November 2015)
In Brazil, the high school national test essay theme was "Violence against women". Any students with dissenting opinions automatically failed the test (15 November 2015) Reddit mensrights discussion thread
Feminism to Become an Official School Subject (2 November 2015)
Fighting school sexism: feminist theory hits classrooms (1 November 2015)
Keep Gender Politics out of Scouting (29 October 2015) UK
Gender-based violence prevention in the classroom is just a start (25 August 2015) Australia
Brisbane teacher wins scholarship to develop program to reduce domestic violence, coward punches (10 August 2015)
We must stop indoctrinating boys in feminist ideology (20 July 2015) More than 1,000 readers comments!
Bankstown Public School boys "all say no" to abuse against women in their own hip hop song and video (24 March 2015) Hmm, no sign of a girl's choir singing nice things about boys … funny that.
We mustn't make boys feel bad about being male (3 December 2014) with 193 reader's comments
The thought police telling kids heterosexuality's not the norm, by Miranda Devine (17 October 2012)
Do these girls represent the next generation of Australian women? Products of PC/feminist-corrupted education system … amoral narcissists with an abundance of entitlement and little respect for themselves, let alone men/boys?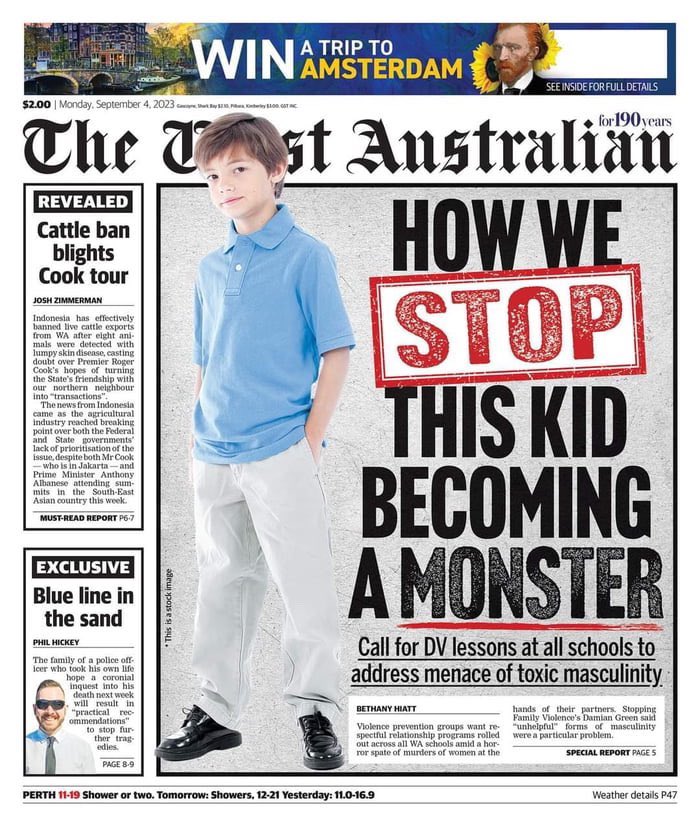 Elsewhere in this blog you might also be interested in:
The trouble with boys and learning
Two awareness campaigns. Only one can be criticised. Cowed by feminism?
Privilege, respect and entitlement
Differing public response to partner violence depending on gender of victim
On violence carried out by women and girls
On recognising and supporting male victims of domestic violence